As modern technology takes over our world, we are bombarded with damaging electromagnetic frequencies (EMFs) – a silent, invisible but very real threat to our physical and emotional health. It can prove challenging to battle enemies we cannot see. However, technology isn't going anywhere, and honestly, most of us would be lost without it! In fact, according to a study by the Institute for Communication Technology Management, the average person's daily consumption of media via cell phones, computers, and television is around 15 hours!

Some exposures such as outdoor power grids and home/work electrical lines often cannot be avoided, however, you can take some measures within the exposures that you can control. So the most important message we can take away from this piece are effective actions for EMF protection – what really works, and how a few small changes on your part can have a positive impact on your health.
Bite Into Bluetooth and Cell Use
Anything electronic, electric, or battery operated emits unnatural electromagnetic frequencies that surreptitiously cause disharmonic vibrations, damaging your energy field and physical/subtle bodies.  Cell phones and Bluetooth devices are double whammies that superficially serve us well in our busy, multi-taking existence; however, it is the rate and the manner in which we utilize these conveniences that truly makes them a primary EMF contributor.
Both items, Bluetooth in particular are commonly activated in close proximity to our brains (which can cause brain cancer), and many people carry these items on their person; hence the body receives tremendous exposure. EMF protection tips: Keep your cell phone as far away from your body as possible, whether in use or not. Even keeping it in a bag or briefcase helps! Use speaker phone or headphones to reduce head exposure. Limit Bluetooth and cell phone use and indulge in more personal communications.
Unplug from the Web…and Unplug Yourself
Desktop and laptop computers not only emit EMFs themselves, but the glorious Wi-Fi that connects us to the world further expounds the harmful EMF field. The absolute best thing you can do for EMF protection here is to:
Turn off computers AND the Wi-Fi. Forget the concept that leaving the CPU on extends it life…Rather, consider this action one of mercy that is intended to extend YOUR life!
Unplug. Not only will you consume less electrical energy by unplugging, but you are going one step further toward weakening the electromagnetic reach of the devices.
Take breaks and step away from the computer…(this doesn't mean get on the cell!) A few minutes away from direct EMF exposure allows your frequencies time to recuperate to some extent and gives your body a break – so unplug regularly in long sessions.
Use

EMF shielding pendants

, crystals, stones, pyramids, etc. near your CPU to transmute those negative frequencies and serve as a barrier.
Are 'Lifesaving' Implements Literally Killing You?
While PET-Scans, MRIs and the like DO save quite a few lives, they also expose your body to EMFs on a dramatic level in a short amount of time. Of course, one should always get the care that they need while keeping in mind that many traditional physicians will use caution and recommend 'tests' – whether you need them or not. Airports globally rely on scanning devices to inspect your belongings and your person all in the name of saving lives, bombarding you with harmful frequencies. Don't get scanned – Request a physical pat down, especially if you're a frequent flyer.
Are Smart Meters Out-smarting Our Energetic Field?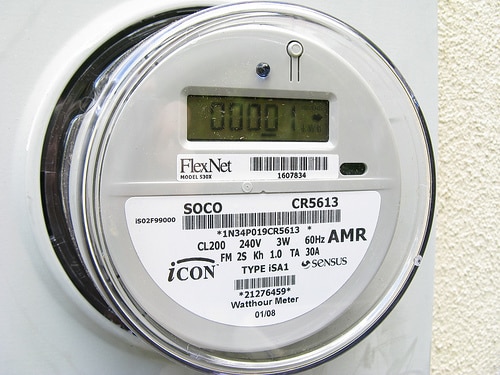 Unless you read the fine print 'notifications' on your energy bill, you might have – as I did – come home one day to a shiny, new Smart Meter in place of the old turning wheel model. In fact, most companies seem to require installation and request hefty monthly fees from homeowners who refuse. For more information on the risks and side-effects of these installations, see this report on EMFs and smart meters.
Solution: pay the fee to keep the spinning wheel. Here' the rub – if you live in an apartment or even in a tightly spaced residential community, you are generally further exposed to your neighbors' EMF output so consider talking to your neighbors about doing the same.
Notice we use the word 'unplug' several times here, and the absolute best EMF protection is to simply unplug as much as possible. We live in a crazy world, so take a break off social media, take more walks, commune with nature and the ones you love, meditate and clear your aura, harmonize your fields, and vibrate at your highest possible frequency.
~via QuantumStones.com

by Ellyn Dye,
Guest writer, In5D.com
It's that time again: Mercury is Retrograde. Three or four times each year, Mercury appears to be moving backwards, away from the sun, for approximately three weeks, and even hardened skeptics run for cover! Every planet goes retrograde periodically, but Mercury is a "personal" planet and affects our everyday lives. Mercury rules communications, mental processes, machinery, electronics, and transportation, among other things, and when Mercury is not in fast-forward, we all tend to feel it, up-close and personal, directly or indirectly!
Mercury Retrograde has a bad reputation, because during these periods we can experience communications and mechanical breakdowns, misunderstandings, crossed wires, and all manner of aggravations and delays. As a result, everyone's levels of frustration and irritation can be high. Packages get delivered to the wrong address, and checks get lost in the mail. Computer glitches abound. We hit "Reply All" on the one email that absolutely, positively shouldn't be shared! The most important document on our computer disappears into the ethers. A virus eats the hard drive or an online banking typo wipes out our checking account. Or we spend all day writing a newsletter, only to find out later that none of the "Saves" worked, so we have to start again from scratch! We are well advised to keep our patience intact and our sense of humor at the ready! With Mercury Retrograde, "the dog ate my homework" excuse is probably true! (But you still have to do that homework all over again!)
When Mercury is retrograde, it is not a good time to start something new, make large or important purchases (particularly anything electronic), sign contracts, or accept or start a new job. If we do, we are likely to find out—after Mercury goes direct again—that the project falls apart because we misread the instructions or someone else didn't do their part, the non-returnable sofa doesn't fit into the living room (or through the front door!), we misunderstood or missed something crucial in the fine print, the new job is not what we thought it would be, or we end up with a different supervisor who doesn't like us and really wanted to hire her nephew.
Under the Mercury Retrograde influence, we can also feel like we've entered the dementia zone, as our minds don't seem to function on all cylinders. Our thinking is fuzzy. We get appointment dates wrong, forget to pick up the kids, show up at the wrong restaurant for that important lunch meeting, lose our keys, leave our plane tickets at home in our other purse, get lost on the way to the station, and miss our train.
What can we do?  Be aware that Murphy's Law is likely to be in full effect ("Anything that can go wrong, will go wrong!") Double-check all important details, early and often. Allow extra time for everything and practice patience. Make sure that you keep track of your keys, your wallet, and other important items. Read the fine print… twice! Back-up your computer work often, and think twice before clicking "Send" or "Delete". Don't let yourself do things on auto-pilot, because it will malfunction! Take it slow, pay attention, don't try to multi-task, and by all means, don't text and drive! Mercury Retrograde is a time that exemplifies that old adage of home improvement: Measure twice, cut once!
But Mercury Retrograde has a good side, too!  There are many activities that flourish under its influence. Mercury Retrograde can remind us that, in fact, for everything there really IS a season! If we let it, Mercury will teach us about the deep rhythm of Life. When Mercury ceases its fast-forward motion and goes back and retraces its steps, it is a time for us, too, to hit the "Pause" button, take a deep breath, and reassess what we've done and how far we've gotten in the past few months; and to figure out whether we're going in the right direction and what needs to be tweaked. It truly can be the pause that refreshes.
Mercury Retrograde is the perfect time to review, reflect, rethink, reconsider, revise, rewrite, re-do, renew, reorganize, regroup, reconfigure, reinvent, refinance, recommit or release, and research and plan our next moves. It's a time to go back over things, retrace our steps, pick up loose ends, complete those unfinished projects, and get everything ready for our next surge forward. Important ideas, information, opportunities, and even items that had been lost, overlooked, or forgotten in the dust may now float back into focus, just at the right time. This can be a time when we can actually let go of the illusion of control, get out of our own way, and let the Magic happen!
One of the absolute best things about Mercury Retrograde is its apparent fondness for reunion and reconciliation. People from our past can suddenly appear out of the blue, in the most unlikely places. It can be someone we've wondered about for years, like a long-lost love or a dear friend who moved away; or it can be a former boss or colleague who offers us a new opportunity. It also can be someone with whom we had a falling-out, giving us an opportunity to resolve it, redress it, and reconcile… or decide to just let it go and move on.
Despite its bad reputation, Mercury Retrograde can, indeed, bring us amazing blessings, if we slow down and allow it to do so!
Mercury Retrograde will be influencing us through July 1, with some residual effects for the following couple of weeks. Be sure to take additional precautions, pay attention to details, allow extra time for everything, and back-up your computer work. But do, also, take advantage of this amazing time for reflection, revision, reorganization, and reunion before Mercury starts us running full throttle again!
About the author: Ellyn Dye is an Author, Intuitive Coach, Metaphysical Teacher, and Motivational Speaker. A near-death experience (NDE) in 1985 expanded her psychic abilities and created an ongoing link with some very loving—and humorous—Guardians of humanity and the ancient wisdom. They provided her with a vast array of information about life on earth and the evolution of mankind. Ellyn publishes a free monthly newsletter, Tunnel Vision, about the Great Shift and how to navigate the waves of change. She is author of the metaphysical fantasy novel, The Search for the Crystal Key, and is working on a new book, Creating Heaven on Earth. . . One Soul at a Time; A How-To Manual from the Perspective of a Near-Death Experience. Find out more about Ellyn, her NDE, and her products and services at www.LionMagic.com.